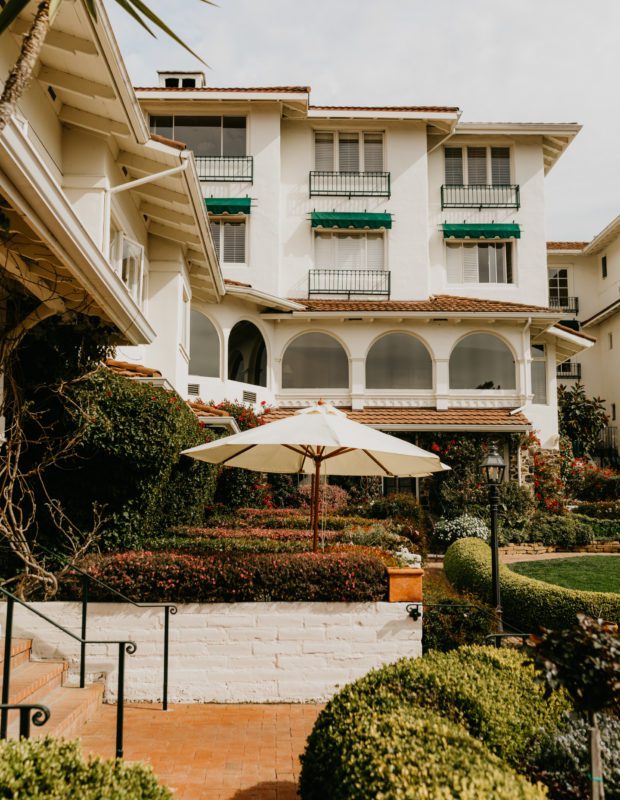 FAQ
Questions & Answers
We're always happy to help, but first you may find what you need here in the frequently asked questions.
What other hotels are in the Classic Hotels & Resorts portfolio?
Where can I find the best rate?
Our best available rate is through our website. Check out our available dates and current rates here.
Do you have room service?
No, we do not offer room service.
Do you have a pool and Jacuzzi?
We have a lovely outdoor pool with a covered seating area and fire pit. The pool is heated to 80 degrees and is open from 9am to sunset each day. We do not have a Jacuzzi.
We do have a small, private parking lot located behind the hotel. Street parking is also available.
What does the nightly amenity fee include?
Champagne breakfast buffet
Signature sangria offered in the late afternoon
Fresh baked cookies served in the Lobby each evening
Unlimited high-speed wireless internet access
Self-parking
Our pool is available to enjoy from 9:00AM to sunset.
Do you have cabanas for rent?
Do you have a gym on property?
No, we do not have a gym onsite.
Reservations
We do not have roll-away beds.
Do you provide pack-n-plays?
Yes, we do have pack-n-plays. They are by request and based on availability.
Do you have connecting rooms?
We have a very limited number of connecting rooms. Connecting rooms are available by request and are based on availability.
What is the cancellation policy?
For those who have purchased our flexible leisure rates, reservations must be cancelled or modified by 5 PM PDT 7-days before arrival to avoid penalty. Guests who notify us within our cancellation window or do not arrive on the scheduled arrival date will be charged one night's room rate with tax.
Please note, our standard cancellation policy does not pertain to group-related reservations with a custom cancellation rule or prepaid non-refundable reservations.
Can I request an early arrival?
Early arrivals are based on availability on day of arrival. Please call
831-293-6100
prior to your arrival for more information.
I confirmed through a third-party, how do I make changes or cancel that reservation?
We are unable to modify or cancel third-party reservations. Contact the company directly that you confirmed with.
How can I view or change my current reservation?
Click here and select "Modify/Cancel Reservation" on the bottom right of the screen
Do you have ADA Accessible rooms
Yes, we do have ADA Accessible rooms. Please, contact our Front Office for details 831 293 6100.
What are book direct benefits?
We offer exclusive perks for guests who book directly by calling our hotel or reserving on our website. Our current Book Direct Benefit includes:
A complimentary appetizer with the purchase of two alcoholic beverages at Bud's at La Playa Carmel. To redeem, notify your bartender prior to placing your order.
In order to qualify, you must be a current guest and have a room reservation booked through La Playa Carmel directly. Direct bookings are reservations confirmed through 800-582-8900 or laplayahotel.com, without using an OTA or 3rd party intermediary like Expedia, Priceline, Booking.com, Agoda, Travelocity, Hotwire, etc. Please note, you may be asked for your stay confirmation email to confirm your reservation source.
I found a better rate on another site, do you offer price matching?
Our Price Match Guarantee is available when a lower rate is found on a public website with the same stay conditions.
To be eligible for our Price Match Guarantee, our Reservations Specialists will need to locate and verify the live rate over the phone. We advise not to book the lower rate until speaking with us first. Our Price Match Guarantee will only be honored by La Playa Carmel's Reservations Team who may be reached at 800-582-8900.
Stay conditions must include same hotel (La Playa Carmel/ Camino Real at Eighth Ave., Carmel, CA 93921), room type, guest count and dates of stay. Rate must be publicly accessible and available to book. Our Price Match Guarantee is not applicable to packages, special rates, group business or advance purchase offers. Price Match Guarantee may not be applied to existing reservations. Price Match is not applicable for all 3rd party sites.
Policies
What is your smoking policy?
La Playa Carmel is pleased to announce that our hotel is smoke-free. This includes smoking of any kind, including but not limited to vaping, e-cigarettes, and marijuana. Please note that a cleaning fee of $500 per room, or more, will be charged to guests who choose to smoke in our guest rooms.
According to California Health & Safety Code section 11362.3, it is illegal for any person(s) to smoke marijuana in a public place.
Local Information
Location
What are your cross streets?
We are located on the southwest corner of Eighth Avenue and Camino Real.
What is the closest airport?
The closest airport is Monterey Regional Airport (MRY), about 7 miles away.
Where can I get a rental car?
To reserve a rental car with Enterprise, please click here.
Where can I get a luxury rental car?
We partner with Go Rentals, an elite car rental service, specializing in private aviation.
Call 831-582-6160 or email MRY@gorentals.com and mention you are staying at La Playa Carmel to reserve your car.
Meetings & Events
I am interested in hosting a meeting or event, who can I contact?
I am interested in hosting our wedding on property, who can I contact?
Dining
We offer our Champagne Breakfast Buffet daily from 7:30 am – 10:00 am. The cost is included in the nightly amenity fee.
Do you have a restaurant on property?
Our Bar & Restaurant, Bud's, is located on property and is open from 3:00 pm to 10:00 pm.
Pets
Are pets allowed? Are there restrictions for weight, height or types?
Yes, we gladly welcome up to two pets per room.
Pets must weigh no more than 40 pounds to be permitted to stay at La Playa Carmel. Guests traveling with pets will be placed in our pet-friendly Garden Patio guest rooms, or if a suite was reserved, our Terrace Suite. We ask that you please inform us prior to arrival that you will be traveling with your pet (or pets). A Pet Waiver must be completed and submitted to our Guest Services, and a $250 non-refundable pet fee per stay will be charged upon check-in. The fee will be waived for service animals.
Prior to arriving, please be aware of our pet policies and amenities. Please note, restricted breeds include Pit Bulls and Pit Bull mixes.
Are dogs allowed at the beach?
Yes, dogs are allowed on Carmel Beach and must be on a leash. More information can be found on the City of Carmel's website.
Do you have pet-free rooms for those with allergies?
Yes, we only allow pets in specific rooms and room types keeping a majority of our guest rooms pet-free.
Press Inquiries